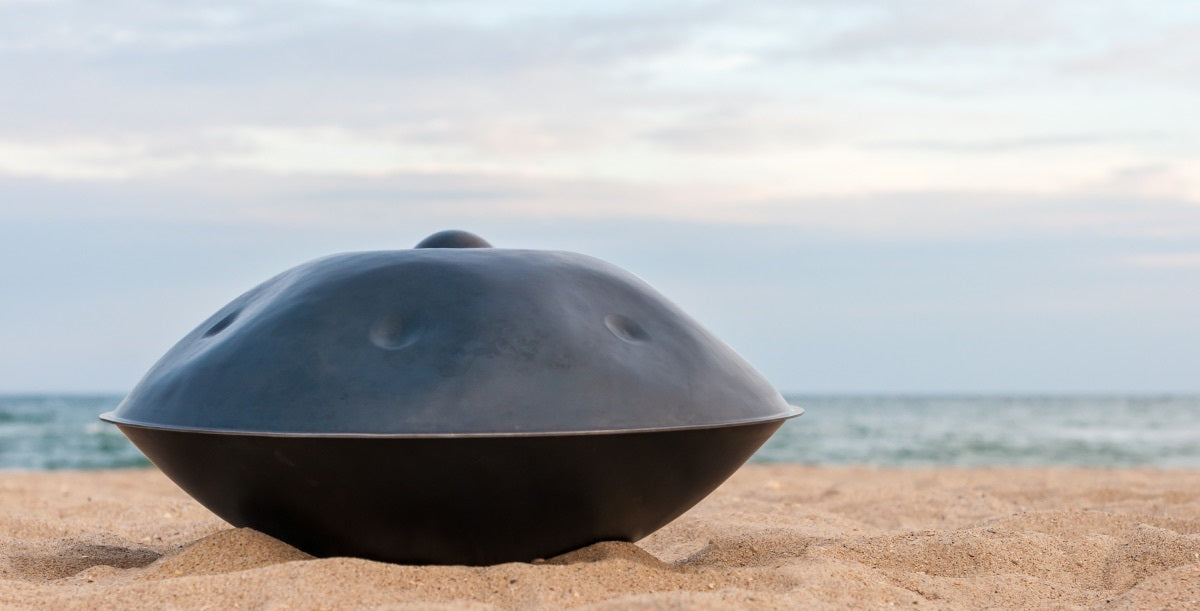 Handpan & Hand Drum
Learn to play beautiful music


Tongue Drum & Handpan Instruments
Music instruments for sale
Handpan & Hand Drum for sale
Learn to play handpan with our instruments made in workshop.
Buy the handpan that will bring a soothing atmosphere in your home.

High quality

Handcrafted

Free delivery

Satisfied or refunded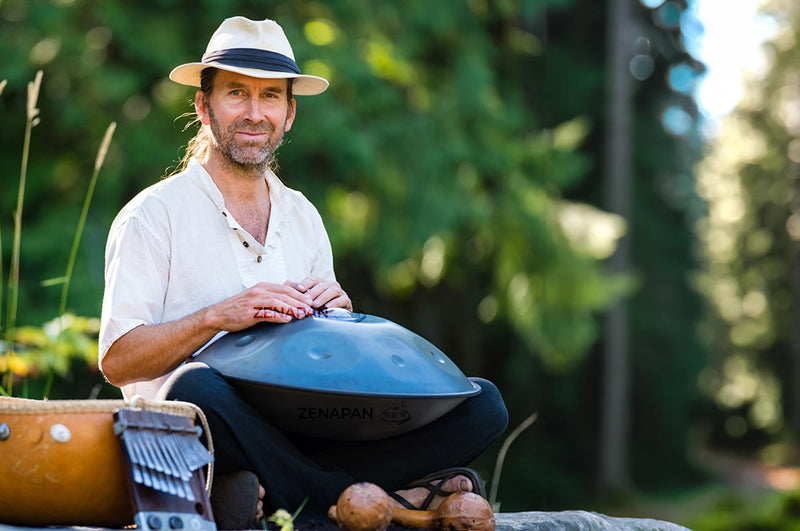 Handpans for beginners
You want to buy your first handpan? We recommend a 10 or 9 notes handpan. You'll get a high quality handpan.

Follow our expert advice to choose the right hand drum.
Our handpans for sale are a good opportunity
We offer a custom handpan service. Choose your frequency (432/440 hz), the number of notes, the scale and the color.
Our craftsmen will make with heart a unique handpan instrument for you.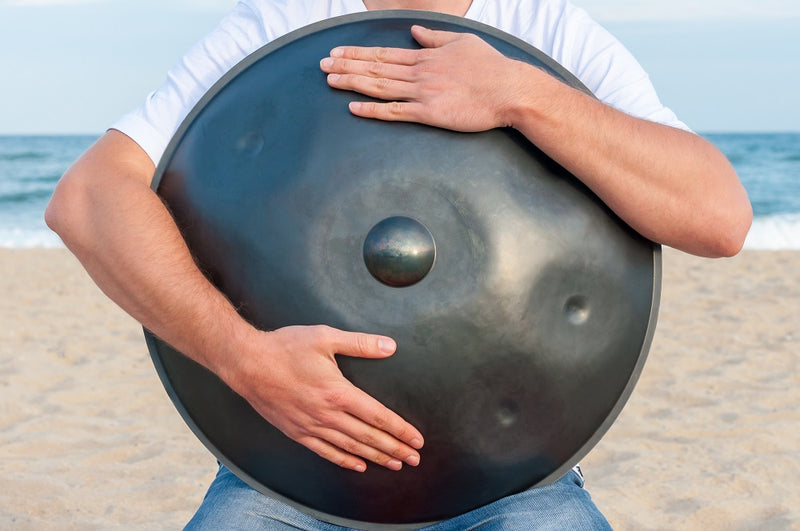 ---
What is the tongue drum or the steel tongue drum?
Tongue Drum is a healing drum. Its deep vibrations soothe the brain.
Because a wrong note is impossible, anyone can play it easily.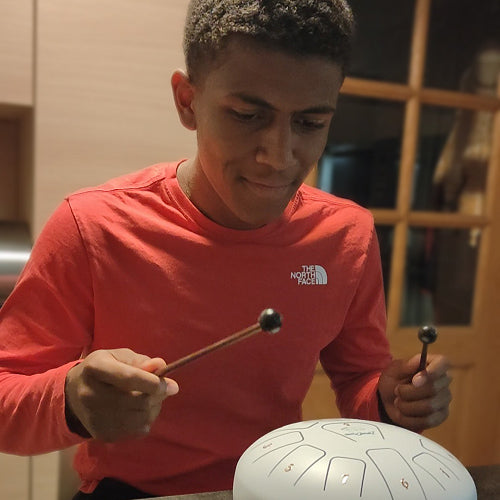 Tongue drum for beginners & children
Learning how to play steel tongue drum is easy for beginners or children.
It is important for us to share our musical knowledge with you.
That's why we offer you a free song book with sheet music.
A tongue drum for sale to please loved ones
Tongue Drum is a gift that is always appreciated. No matter whether it is tuned in C major, D major or G major. Or whether it has 8, 11 or 15 tones/inches.
With the tutorial and the sheet music, you can quickly learn to play beautiful music.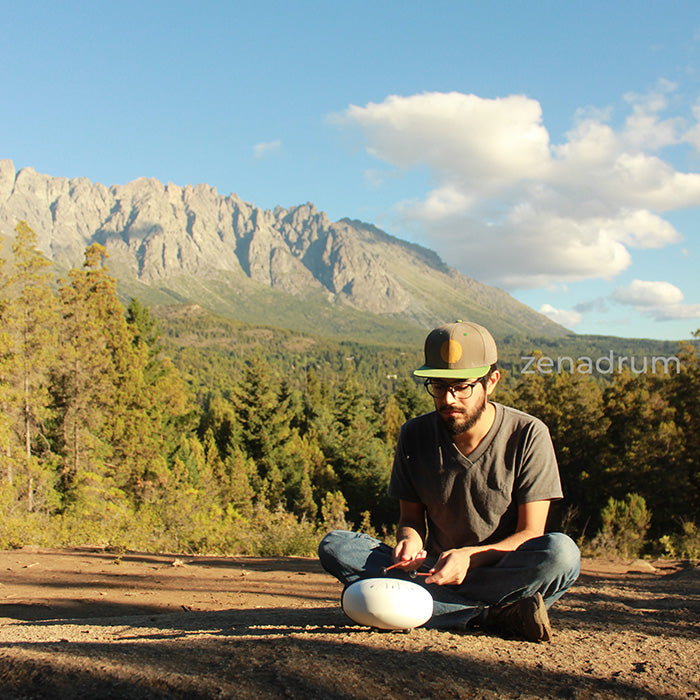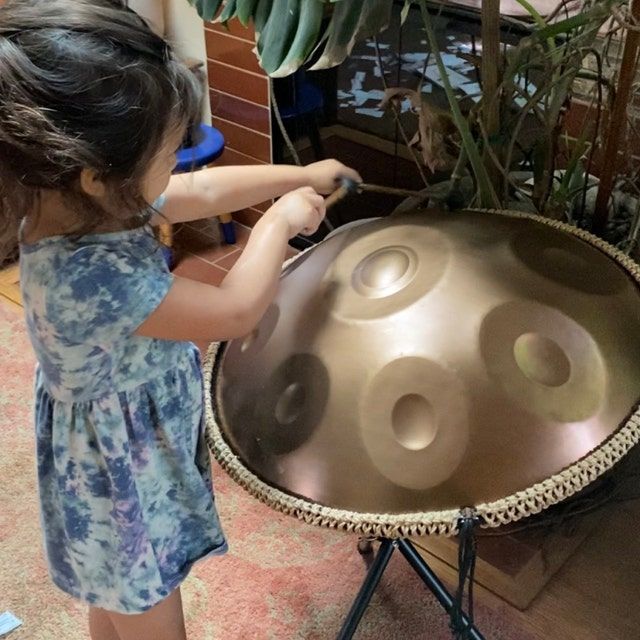 Me and my daughter love this handpan. The sound is super soothing.
We highly recommend this brand.
Lili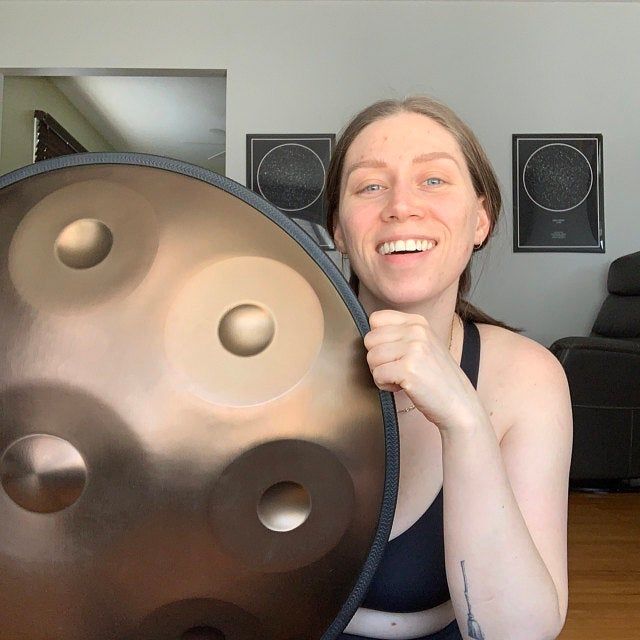 The sound of the Handpan is harmonious and super calming. Accessories are included. I am super happy.
Catherine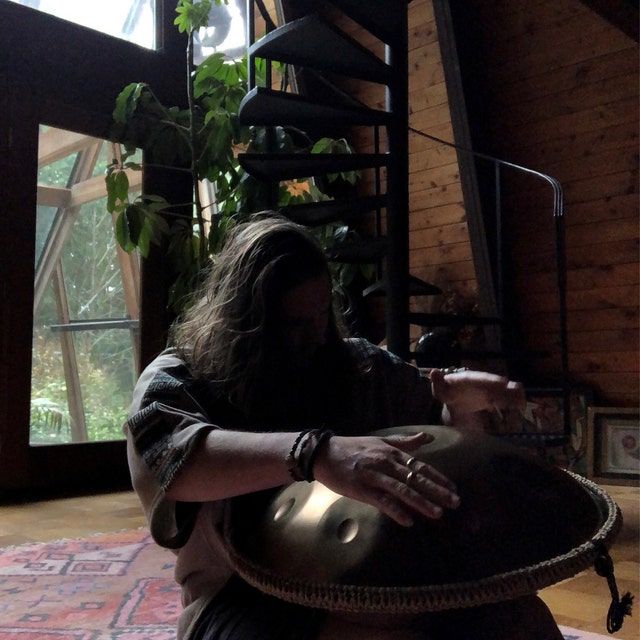 The handpan I needed: well-balanced sustain, melodic sound and robust.
Henry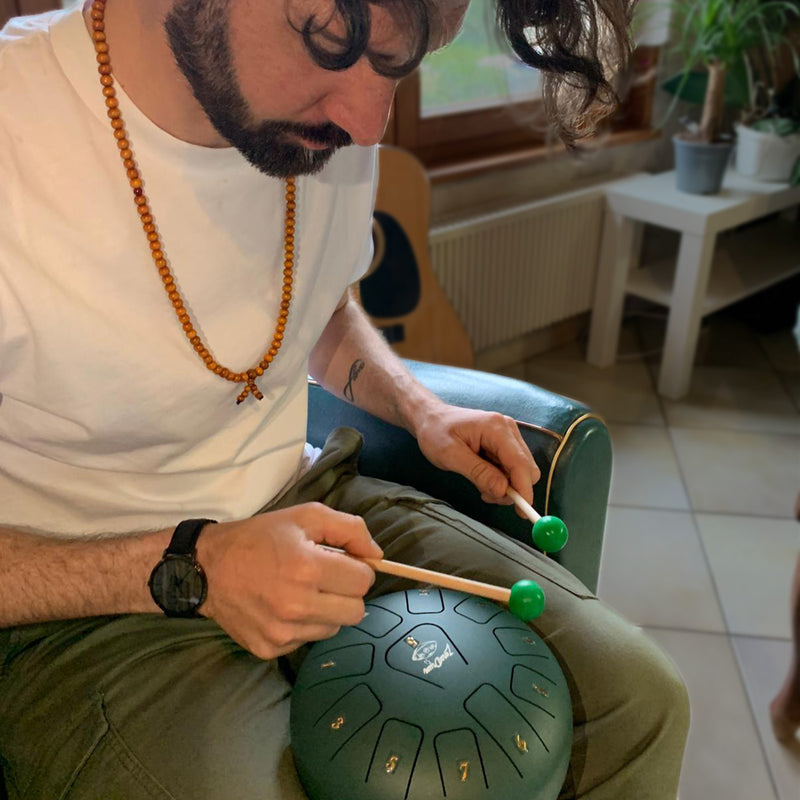 We love this tongue drum so much. The sound is calming and soothing.
All our family recommends it 100%
Harry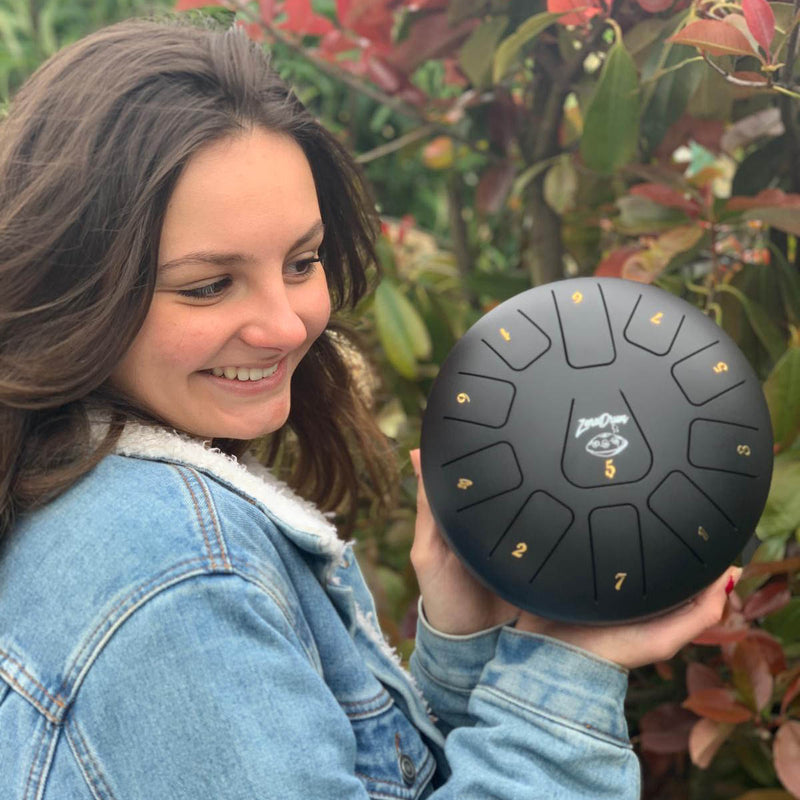 The sound is sweet and soothing. I am amazed at how simple this instrument is.
Thank you ZenaDrum!
Olivia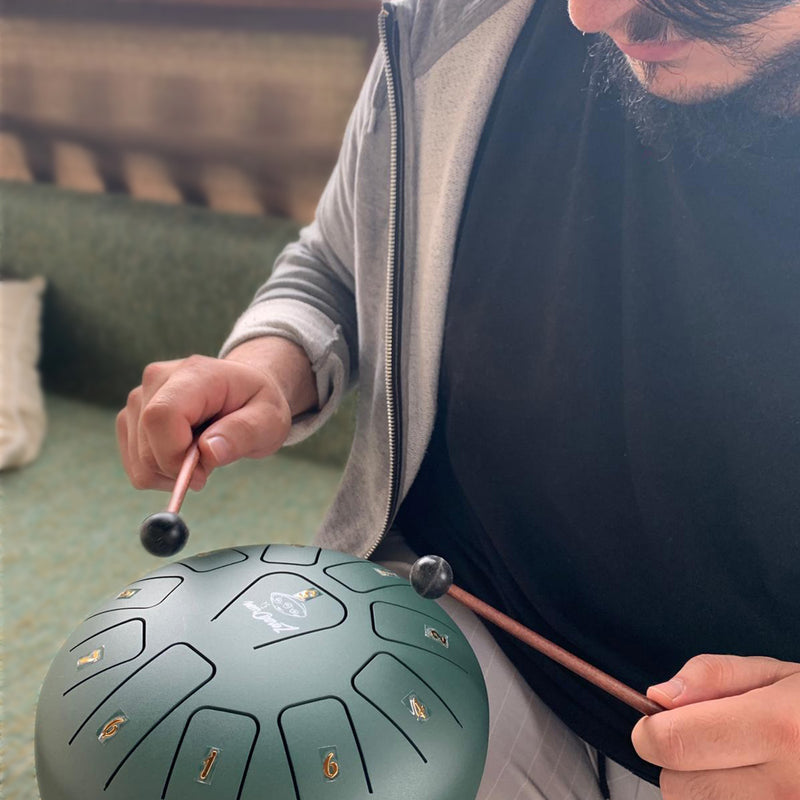 The sound is super satisfying! The instrument is easy to play.
Our kids love it. Happy with this purchase.
George
What is the origin of the Handpan?

The origin of this instrument is in Bern, Switzerland, where Felix Rohner and Sabina Schårer built the multi-faceted instrument called Hang. Felix Rohner was the first significant player of a musical instrument called the Trinidad Steeldrum, which became popular in Europe in the early 1970s. With a good understanding of the Steeldrum, he and his partner Sabrina Scharer founded PANArt in 1990, a company known for making dented musical instruments. It was not until 2001 that Felix and Sabrina officially introduced Hang at the Musikmesse in Frankfurt, Germany.

The Handpan and its other names

Panart registered the name of its musical instrument, so many manufacturers had to find other names for the instrument. You will hear or read these names around you: Handpan, Hang Pan, Hang Drum, Handrum, Pantam or Steel Drum.

How much does a handpan cost?

Usually, a handpan costs between 1500 and 3000 dollars, depending on the manufacturer of the instrument. Our handmade handpans are known for their best price-performance ratio. In 90% of the cases you can find handpans at a price that is too high compared to the quality offered. ZenaPan® offers high quality (handmade) handpans at a price between $890 and $1800! We want all players, from beginners to experts, to enjoy unique instruments at a cheap or at least affordable price.

How does a Handpan work?

By handling nitrided steel, it presents dimples tuned to a diatonic scale. When the dimples are struck, they produce a sound by affecting the air inside them. The airflow is released through a hole in the lower half of the instrument. The hang is often tuned to a single scale. Anyone can play beautiful music with a well-tuned handpan, even without musical knowledge.

Is it complicated to learn handpan?

No. The handpan is an intuitive musical instrument that is very easy to play. All you have to do is improvise. If it's your first instrument and you haven't taken a music theory class yet, you can rest easy. It will be easy for you to create your first melodies. In any case, the soothing sound will put you in a deep relaxation. It will take you and your mind into a huge feeling of happiness. You'll see, this iconic instrument will make you think that you've always been a musician.

Should you play with your hands or with mallets?

As the name suggests, with the hands. Still, there are a lot of accessories you can buy to play handpan. For example, mallets or gloves.

Playing handpan with gloves

Gloves change the sound of the handpan. The sound is much shorter, slightly muffled and quieter.

Playing hangpan with mallets

Yes, you can play your handpan with mallets. However, we don't recommend this because you have to tap very gently. This will make the hang go out of tune much faster. The sound is different. It is reminiscent of a tongue drum.

Is a handpan a drum?

In a way, it's similar, because beating a pan produces tones and notes. But unlike a drum, steel does not produce sounds when it is under tension. Rather, the opposite is true, with the nodular areas of the steel under compressive stress. That is, the steel is pressed outward and deformed.

Each note is deformed to a certain degree, & each works in harmony with the other notes in a certain scale. Not only do you have the note as a melody, but through a sophisticated process, harmonics are introduced to enrich the sound. They also provide special vibrational frequencies. It often takes a long time to make a custom handpan because there is a long queue. However, this is not the case with ZenaPan.

How long does it take to learn to play?

In one hour you can get used to your handpan and hit it the right way. It will be easy for you to play beautiful music, even though you will make small mistakes in the beginning. This is normal for a beginner.

Practice hitting the handpan with your fingertips, the connection of your thumb and palm. There are different ways of playing with little subtleties that will come with time. You will be making beautiful music very quickly.

To learn faster, you can buy online courses like David Charrier's, which we highly recommend. It's a very good investment.

What frequency should I choose between 440hz and 432hz?

432 Hertz: If you want to relax your mind, use this frequency. It is often said to have a mystical effect.
440 Hertz: This is the most popular frequency. If you want to play with other instruments, use this frequency, as they are (usually) tuned to this frequency as well. Most handpans are tuned to 440 hertz.

Customer service attentive
Quick answers to your questions.

Secured payments
Your data are protected.

Handcrafted instruments
With passion and precision.

Free secured delivery
Carefully and well packed package