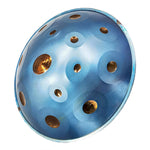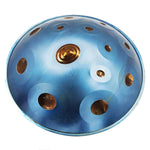 Handpan 13 notes blue and gold - D minor

---

---
Listen to the beautiful sound of the handpan
The color may look different on the video because of the lighting.
A relaxing instrument for music therapy

Our Handpan is tuned in D minor, like most handpans. Playing this musical instrument will empty your mind. Your body and mind will be completely at peace.


If you are looking for inner peace, we recommend the bliss frequency in 432 Hz. It is used to reach consciousness.

Listen to a melody:

A unique handpan with 13 notes
A good manufacturer offering a 13-notes handpan is rare. After many requests, we agreed to build such a handpan. More notes means more musical possibilities. Let your intuition be your guide.
A musical instrument for beginners and novices
This hang drum is perfect for beginners. It is very intuitive. Imagine sitting in nature and playing with your handpan.
How does it make you feel? Good, isn't it? Then you can get to action today and order your own Handpan.
You get several accessories for free: a stand, a carrying bag, 2 mallets and a care cloth.
A handmade handpan with a perfect finish
Your hang will be with you for years to come. Unless you decide to buy one of poor quality. That's why you should order from a good craftsman.


Experience a unique playing experience with your handpan. Its quality will satisfy you with its vibrations, notes, sustain or even its aesthetic finish.


Buy this Handpan for sale now to benefit from a discount.
Read more [+]
Link [-]