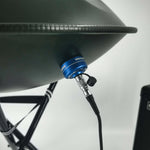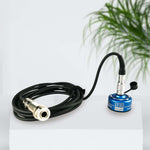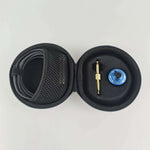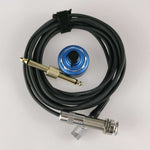 Handpan microphone | contact microphone hang drum
---
---
A microphone that stays true to the sound of the Handpan.

This contact microphone reproduces the sound of the Handpan very faithfully. Be it the acoustics, the touch, the timbre or even the nuances of the playing.

Thanks to the hybrid air/contact technology, feedback problems are avoided. The same applies to external and background noise.
A small and unobtrusive microphone
As you can see from the photos, the micro doesn't affect the style of your hang drum. Attached to the bottom, you won't even see it.

Use it however you like
It's suitable for all purposes, such as recording in the studio or for a concert. With its 6.3 mm jack plug, you can connect it to an amplifier and sound card.
Note: It fits any handpan, but also other percussion instruments like the tongue drum or the singing bowl (Tibetan singing bowl).
---
Are you looking for another accessory for handpan? Then our handpan pendant might be interesting for you. Many other handpan accessories will help you take care of your instrument.

Discover also our best recommendations of handpan for sale.